The Annoying Orange is a series of viral video's created by Daneboe. The first 6 episodes are on his main channel and the rest are on his other channel, realannoyingorange.
Character's
Edit
There are loads of character's in the annoying orange series, however most of them are only there for 1 episode. Here is a list of the main character's:
Orange
Pear
Passion (Fruit)
Midget(Little) Apple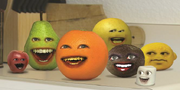 Marshmallow
Grapefruit
Grampa Lemon
Other Character's are 1-Episoder's (There may be a few that appear in 1 or 2 episodes though).
Main Series:
Edit
The main series began on October 9th 2009. it has since become a hit and has new episodes every friday.
thumb|left|300px|The first episode of annoying orangethumb|right|300px|Annoying Orange - Pacmania
Two of the Annoying Orange video's
Ask Orange:
Edit
The Ask Orange series started on September 26th and has 1 episode every month.
thumb|left|300px|Ask Orange #1
Viral Video Week:
Edit
The Annoying Orange "Viral Video week" is 1 week when Daneboe creates Annoying orange Parody video's every day of the week, in which the main characters play roles of the things in the real video's. This happens once or twice a year.
thumb|left|300px|(2011) Parody of Friday by Rebecca black thumb|300px|right|(2010) Parody of Sneezing Panda